YOYOTECH MEANS BUSINESS
FACILITATING THE UK'S NETWORK OF ESPORTS ARENAS
Our team are here to help you get your esports business off the ground.  We have the experience and knowledge to build your esports arena. Helping you plan, design and create your amazing gaming environment.
Yoyotech are with you every step of the way of your esports arena build.  Supplying high-performance gaming PCs, peripherals and bespoke esports furniture for an amazing esports arena. Yoyotech are also supported by leading esports management software.
Once you are all set up it doesn't stop there!  YoyoTech will provide support during esports events, strategic marketing and planning sessions, esports management software updates, training, and tech support.
WHY YOUR BUSINESS NEEDS ESPORTS
Esports is dynamic, investable, scalable, and offers great opportunities to investors, educators, viewers and participants. Esports has become a global phenomenon with millions of players and fans around the globe. Competitive gaming with streaming and live events has made superstar esports players into huge earners with massive followings. It won't be long before esports rivals the biggest traditional sports leagues in terms of future opportunities including sales, ticket sales, licensing, sponsorships and merchandising. Esports is growing at an unprecedented rate and still has so much untapped potential. Yoyotech can help with your esports arena and offers complete esports solutions for your business.
ARENAS - The ULTIMATE GAMING VENUE
Most esports fans are young, affluent and look for gaming opportunities. The esports arena becomes a crucial link to the gaming action and a gaming hub where fans and friends can meet, play and socialise.
A GROWING GLOBAL AUDIENCE
A rapidly growing worldwide phenomenon, with hundreds of millions of viewers/players and dedicated enthusiasts.
Hourly gaming rates, tournament entry fees, food & beverage, advertising, sponsorship, merchandise....
Esports do not suffer from the same physical restrictions that a lot of other sports do. For example, you will not need to invest in more football pitches or tennis courts as your esports business grows. You may need a few more workstations and gaming PCs as time goes on but you will be able to expand within the space you already have. With support from Yoyotech and remote updates, the software will be continually updated with new games,  new levels and performance. Check out our builds in QMC College, Newcastle United Foundation, & Excel Esports London HQ.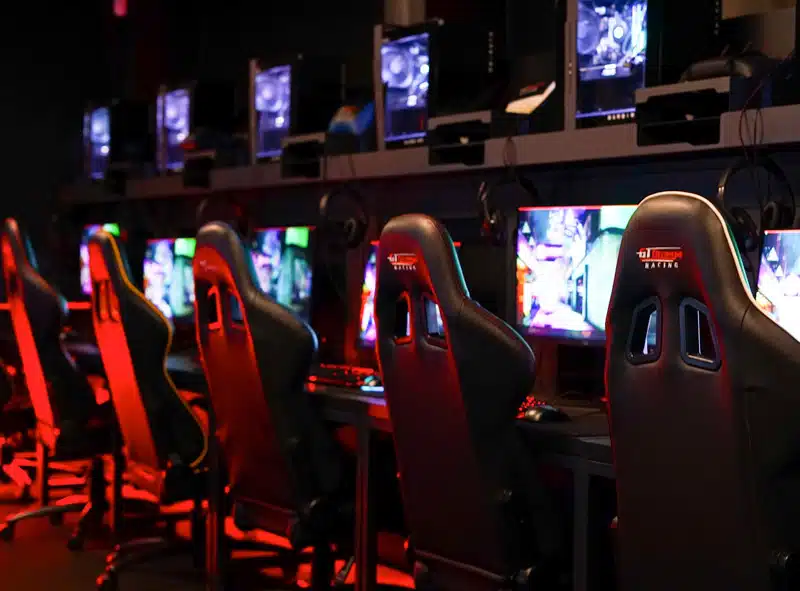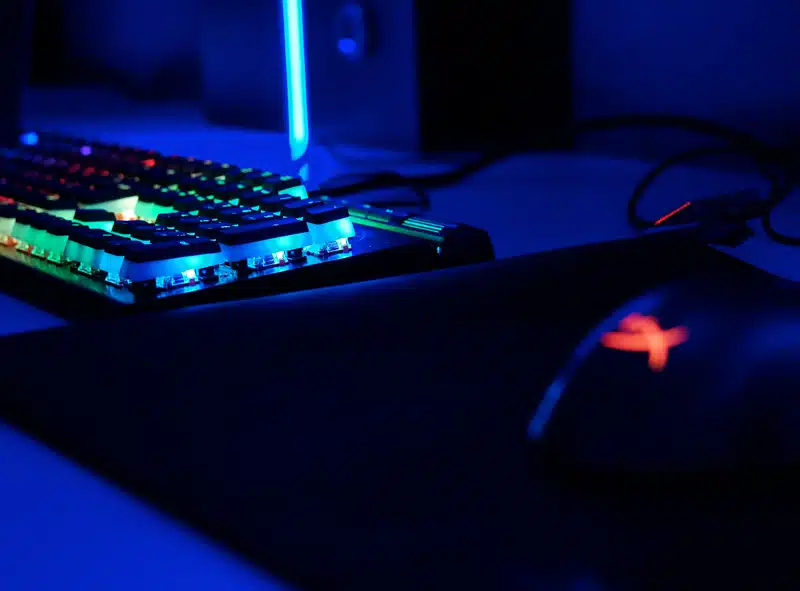 THE COMPLETE ESPORTS SOLUTION
Our services include building the optimal specification machines, providing support and assistance, training, and warranty. we are the partner of choice for organisations wishing to set up their gaming environments.
WHY YOYOTECH?
Yoyotech is at the frontier of technological development with 30 years of experience in IT Solutions for Private and Public Sector organisations.  Esports is a huge growth industry, and we understand the technology, the market, the players and the audience. We understand that you will need to stay ahead of the game, supplying fresh updates that engage this huge and growing audience.
WHAT CAN YOYOTECH SUPPLY?
Everything! Yoyotech are your one stop shop to set up your gaming business. We're here to support your installation and training. We supply all the technical equipment and furnishings you need to set up and run a vibrant, successful and easily upgradable gaming business. Illuminated gaming desks, a solid, secure server system, up to the moment software, automatic updates, Yoyotech's exclusive powerful gaming PC's, accessories, monitors, operations, marketing advice, connections with local colleges,schools, leagues and tournaments, and exclusive deals.
YOYOTECH CREDENTIALS
Yoyotech's reputation in the industry is very strong - we have won 'PC Retailer of the Year' twice. One of the key factors in our success is that we only use high-quality components that have passed our rigorous testing procedures. We keep our prices reasonable through intelligent and large scale purchasing - passing on our knowledge and savings to our customers. You can rest assured that we are here to resolve any issues.
WHY WOULD PEOPLE LEAVE THEIR SOFAS?
Even with optimised, reclining seats, the esports fan doesn't want to spend their entire time sitting in one spot watching a screen — they can do that at home on their sofa for free. Esports arenas need to provide something the average esports fan can't get at home: a full-on social experience. with Yoyotech you can offer exclusive game enhancements and upgrades. You will be able to deliver on atmosphere and comfort plus our superior hardware far exceeds home setups. There are so many advantages, why wouldn't they join the fun?
TELL ME ABOUT THE AUDIENCE...
Esports are set to outgrow traditional sports, in participators and fans - And it's easy to see why. Exciting and accessible to all,  esport athletes and spectators (fans) are investing their energy into this inclusive, dynamic, evolving new sport.
HOW MUCH SPACE DO I NEED?
Yoyotech have experience delivering to all needs, regardless of room size or shape. Only room for 10 PCs? No problem. Curved walls? Consider it done! All we need is a room layout and specification and our CAD specialists and designers will do the rest.
HOW DO I GET STARTED?
Our advice would be to speak to the students, senior managers, and your IT team so the agreed vision and purpose is clear for everyone. Decide on a budget (Yoyotech can work with any figure) and drop us an email. We can help create a state-of-the-art arena with high-performing PCs based on the best specifications you provide. We have experts in arena design and education, along with varied payment options that suit your budget. As Yoyoytech are the ultimate esports solution, we make sure our standards and expectations are as high as yours. Get in touch with us and we can guide you through the process.