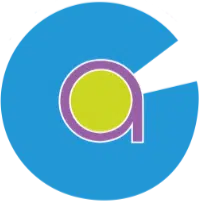 Countesthorpe Academy's Hive Sixth Form is getting ready to offer Esports BTEC Level 3 National Extended Certificate, offering a unique opportunity to study a sector that crosses over multiple subject areas such as sport, marketing, enterprise, IT, fitness and well-being. To deliver this exciting course the Academy has worked with Yoyotech to create a bespoke 26 seater gaming arena.  This will be kitted out ready to ready these lucky students  for the esports industry, either through apprenticeships or higher education. Endorsed by the British Esports Association, the BTEC Level Three qualification is recognised by employers and will support entry into the industry in a range of roles.
At Yoyotech, we are constantly searching for exciting opportunities to introduce our unique gaming experiences into educational institutions. Our most recent venture with Countesthorpe Academy has redefined the very concept of a Yoyotech arena. We invite you to join us on this extraordinary journey as we unveil an exciting new gaming space in a school that understands about preparing their pupils for tomorrows world.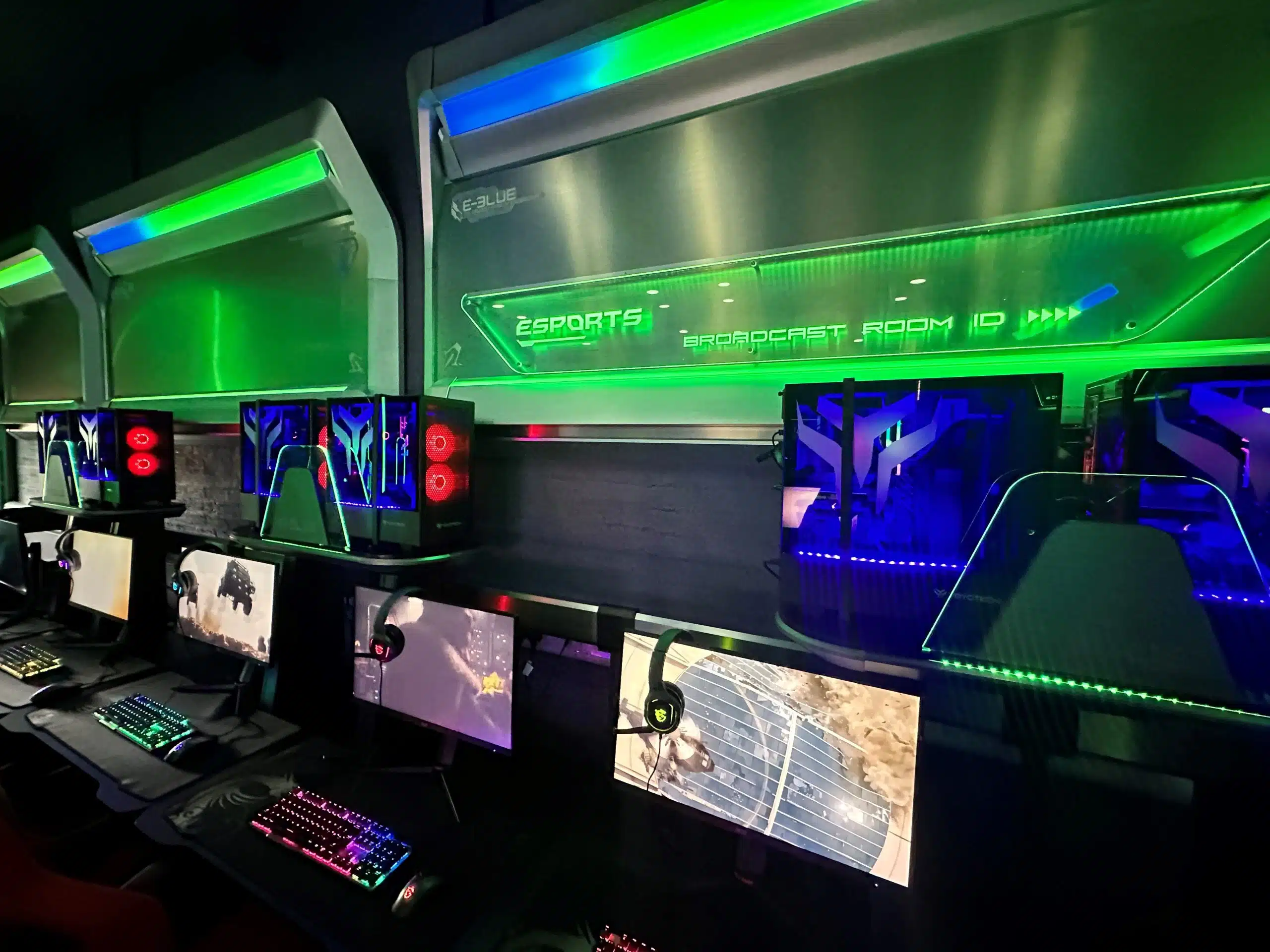 Our collaboration with Countesthorpe Academy had an unexpected beginning, thanks to Emily Perkins, one of the school's physics teachers. Emily's entry into the world of esports was serendipitous, to say the least. Online, she goes by the handle @C9Perkz, which led to frequent mix-ups with a famous League of Legends player known as Perkz, who was associated with Cloud 9 at the time. This amusing twist of fate inadvertently propelled Emily into the esports world, earning her a significant following and even transforming her into a sort of team mascot.
Emily's newfound passion for esports eventually led her to our doorstep, as she aspired to introduce the realm of competitive gaming to Countesthorpe Academy. Her unique journey serves as a testament to life's unpredictable paths.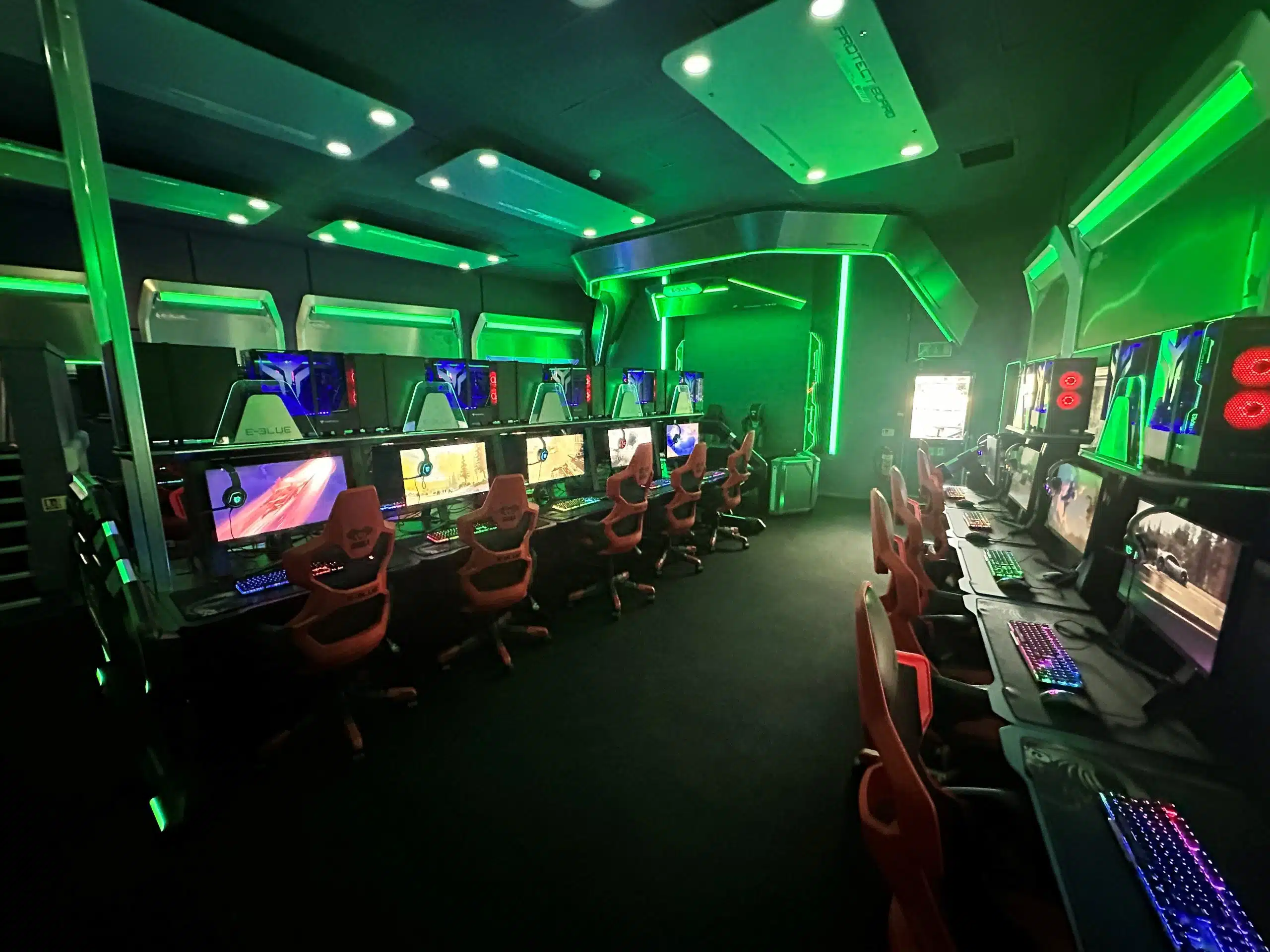 Countesthorpe Academy had a clear vision from the outset: they envisioned an immersive gaming space that would transport users into a digital realm the moment they stepped inside. This concept pushed us to think beyond conventional gaming setups and explore innovative solutions.
Enter our exciting partnership with E-Blue, a renowned gaming furniture manufacturer renowned for its cyberpunk visual style that seamlessly combines ergonomic comfort with effective cable management. It was a perfect match for Countesthorpe's ambitious project.
Our collaboration with E-Blue has been a true pleasure, allowing us to delve into the possibilities offered by their cutting-edge gaming furniture solutions. E-Blue's cyberpunk aesthetics align beautifully with Countesthorpe's vision for a futuristic gaming environment. At Yoyotech, we take pride in staying at the forefront of gaming technology, and our partnership with E-Blue has opened up thrilling new horizons for us.
As we conclude the Countesthorpe project, we are not only delighted with the outcome but also eager to incorporate E-Blue's innovative furniture solutions into future endeavors. This journey has been marked by creativity, collaboration, and a shared passion for bringing the world of esports to educational institutions in a truly distinctive manner.
Countesthorpe Academy's groundbreaking gaming space is a testament to the power of serendipitous encounters and the boundless potential of esports in education. Emily Perkins' journey from a mix-up to an esports enthusiast, combined with our partnership with E-Blue, has given rise to a one-of-a-kind gaming environment that will inspire and captivate students for years to come. At Yoyotech, we eagerly anticipate numerous upcoming projects that will continue to redefine the possibilities in the intersection of gaming and education.