Belfast Met is the largest Further and Higher Education College in Northern Ireland and one of the largest in the UK. With a dynamic new curriculum, which provides educational courses that mirror priority growth areas, where future jobs will be created. With esports as a huge growth industry, Belfast Met needed an esports arena that matched their ambitions and plans.
When working with passionate esports enthusiasts, it's always evident how much they value a well-designed esports room. Belfast Metropolitan College, one of the most passionate institutions we've collaborated with, truly understands the importance of creating a cutting-edge space that caters to the needs of its students. Belfast Met is the largest Further and Higher Education College in Northern Ireland and one of the largest in the UK.
A standout feature of Belfast's forward-thinking approach is their request for a bespoke dual monitor desk that offers modularity and future expandability. This request presented an exciting opportunity for us to explore new design possibilities while maintaining the sleekness that defines the Yoyotech brand.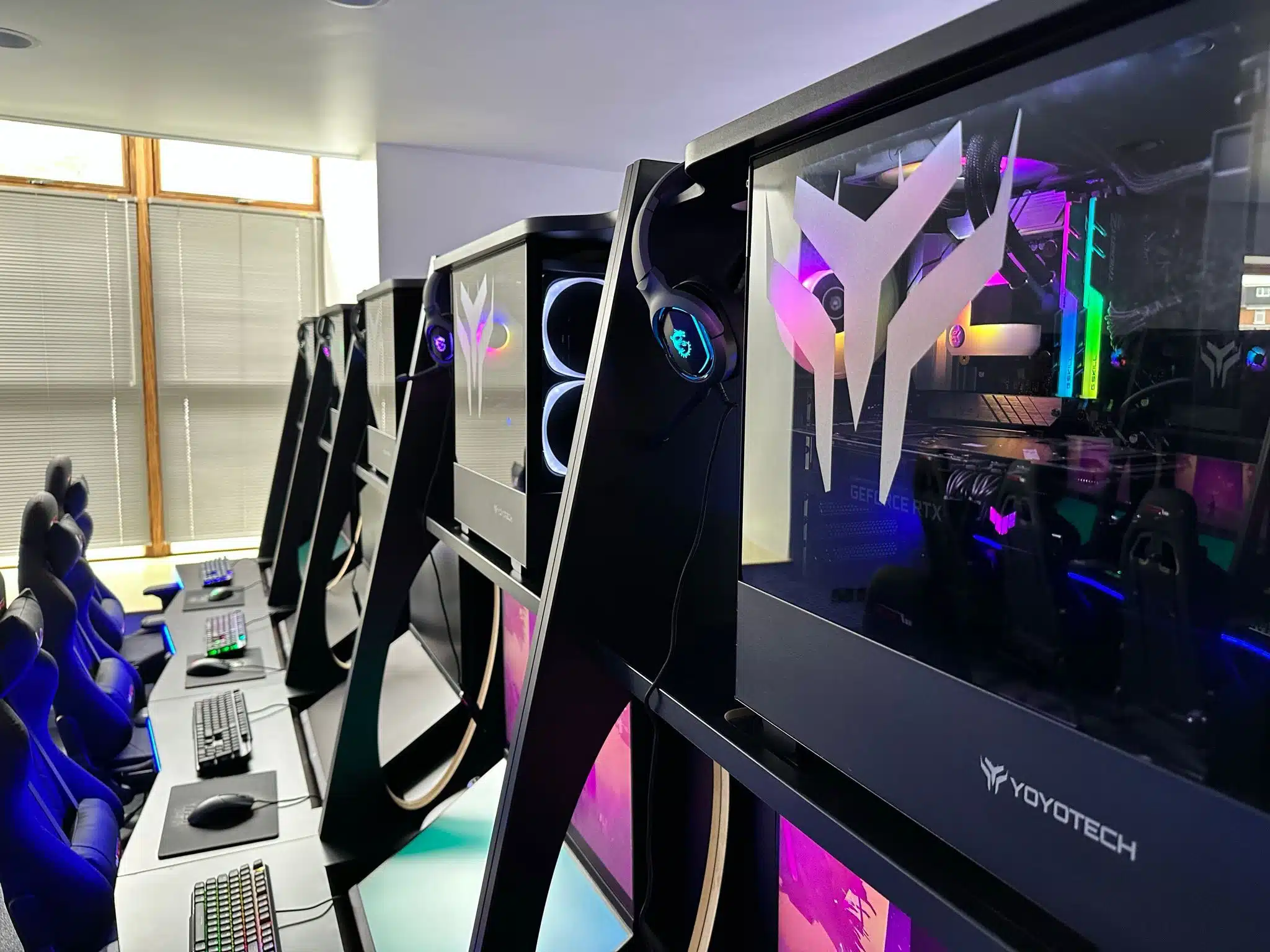 Designing a desk with two monitors posed a unique challenge: the risk of it occupying excessive space. Our goal is to provide compact esports desks that don't compromise comfort. Typically, we accommodate at least 20 such desks in a single room. However, incorporating a second monitor could potentially double the desk's width if placed side by side. To overcome this obstacle, we drew inspiration from the streamlined setups used in the live sports industry's VAR review stations. Our final design features vertically stacked monitors that seamlessly angle from the desktop, creating a visually appealing and space-efficient configuration.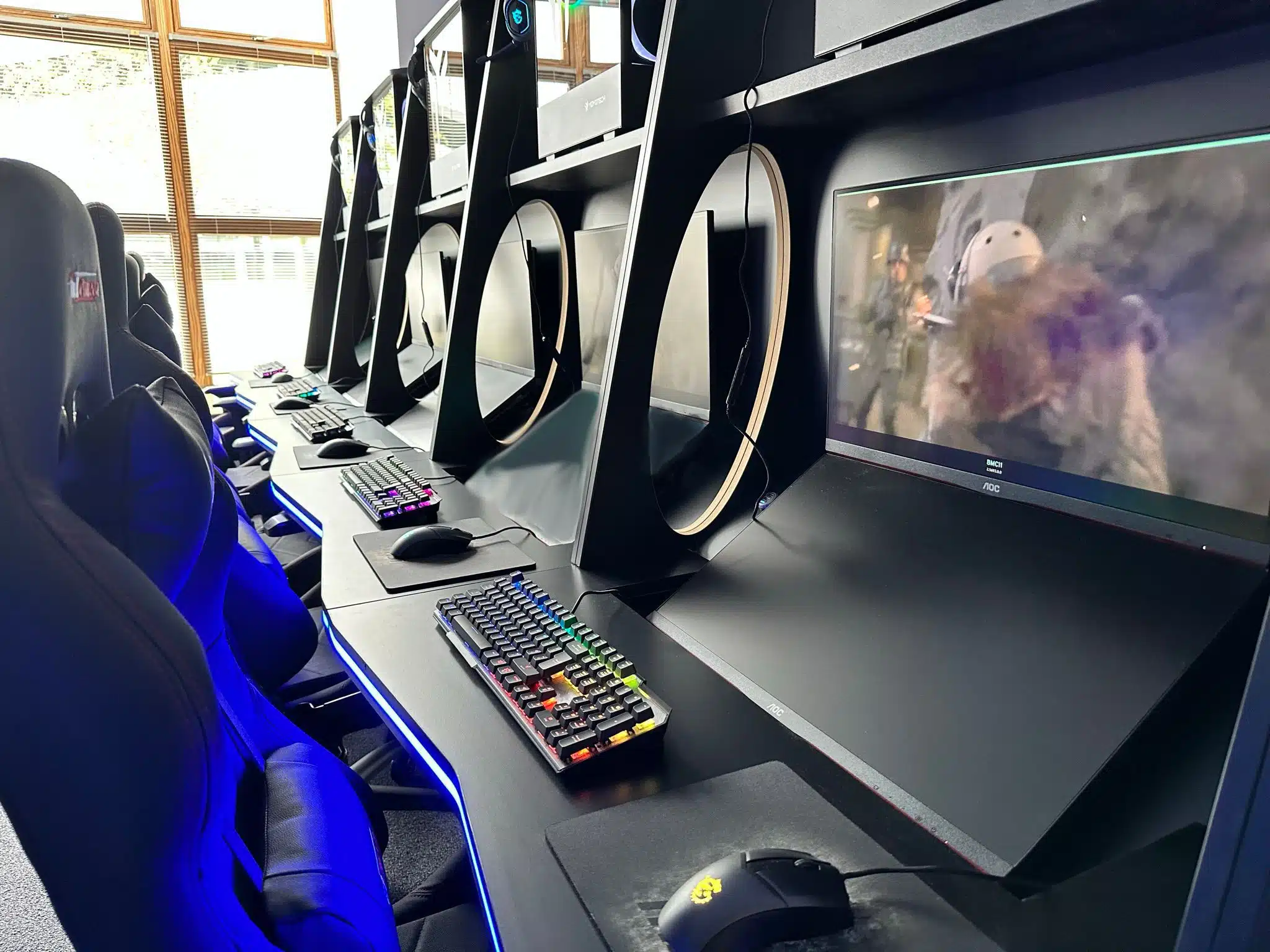 This esports room at Belfast Metropolitan College is just the beginning of an expansive project. As part of the college's transformation into E3 Studios, the creative media hub of Northern Ireland, we are working on additional esports rooms alongside the construction of film, TV, and music studios. Our aim is to optimize every aspect of the esports facility design, ensuring an immersive and high-performance environment for players and enthusiasts alike.
Yoyotech is well-equipped to deliver a tailor-made gaming facility for any educational establishment, drawing on our extensive knowledge and experience in the field. With a deep understanding of the unique requirements of educational institutions, we specialise in creating bespoke gaming facilities that meet the specific needs of students, promote an immersive learning environment and are future-proof.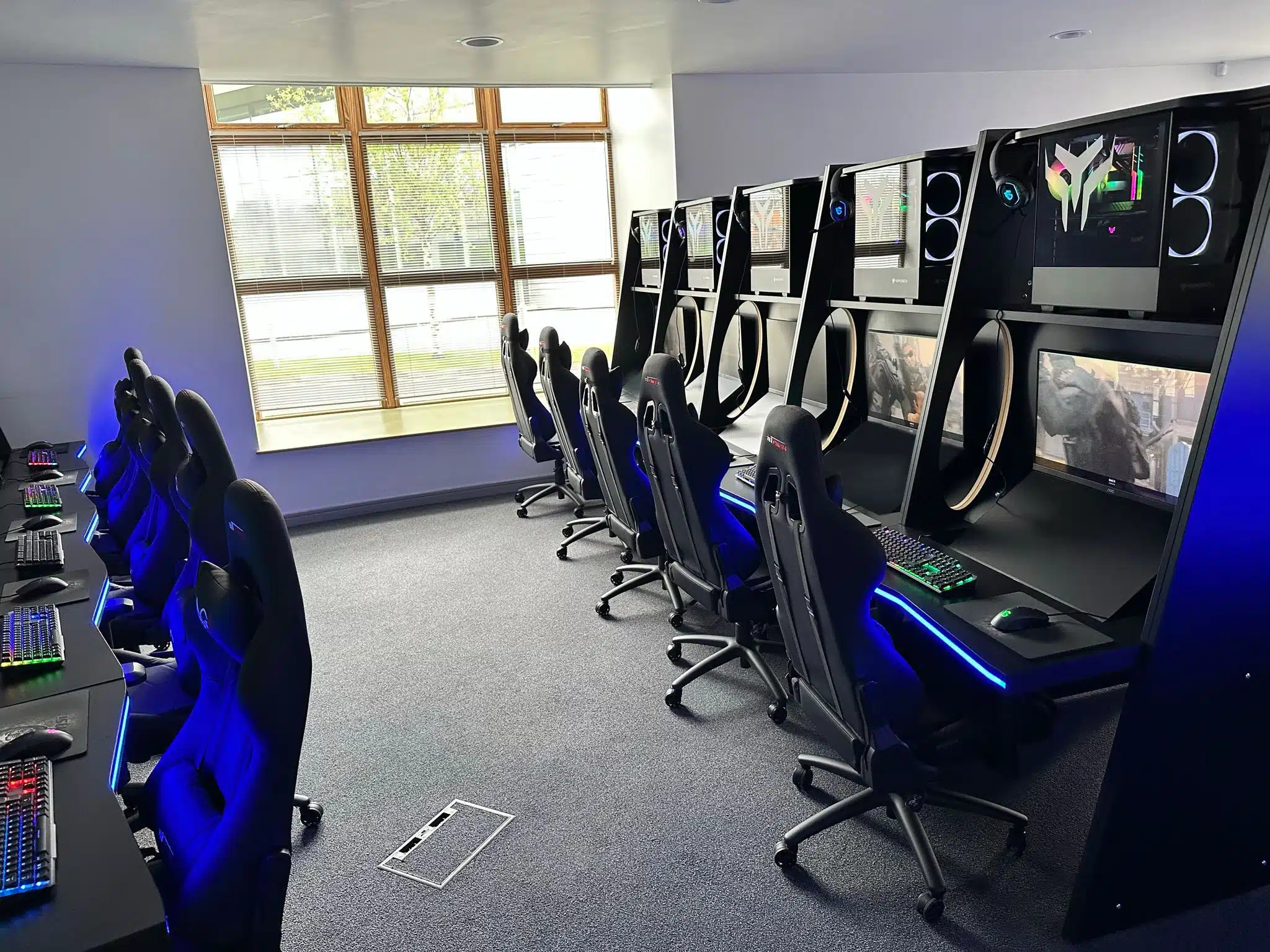 Our team of experts has accumulated a wealth of knowledge and practical experience in designing and implementing gaming facilities for various educational settings. We take pride in staying up to date with the latest trends and technological advancements in the gaming industry, ensuring that our solutions are cutting-edge and future-ready.
When you choose our services, you can expect a collaborative and consultative approach, where we work closely with you to understand your vision, requirements, and budget. From conceptualization to installation and ongoing support, we provide end-to-end solutions that are tailored to your institution's goals and objectives. By leveraging our expertise and passion for gaming facility design, we can help transform your educational establishment into a vibrant hub for esports and gaming, fostering creativity, teamwork, and technological literacy among your students. Let's create an exceptional gaming facility that sets your institution apart and empowers the next generation of gamers and innovators!